Here is the list of seven cricketers who have proved their talent in international arena. But many amongst us do not know that these cricketers are of UTTRAKHAND origin. In this post, we'll learn about their connection with UTTRAKHAND.
1. Mahindra Singh Dhoni
Although the captain cool was born and brought up in Ranchi but his roots belong to Uttrakhand. His parents belong to the Lvali village of Almora District situated in Kumaon Region. Dhoni's Father left Uttrakhand for Ranchi as he was posted in MECON Ranchi, whereas the remaining family still lives in Almora District. Dhoni's Wife Sakshi Rawat comes from Garhwal district and her parents are settled in Dehradun.
2. Unmukt Chand
The boy with an adorable smile Unmukt belongs to Uttrakhand. Chand was born in Pithuragarh in a Kumauni Rajput family. His Parents, Father Mr. Bharat Chand Thakur and Mother Mrs. Rajeshwari Thakur are a teacher by profession and currently settled in Delhi.
3. Manish Pandey
Although he plays for the state team of Karnataka but he was born in a Kumauni Brahmin Family in the district of Nainital. Pandey spent most of his childhood in Nainital before shifting to Bangalore.
4. Pawan Suyal
The first class cricketer Pawan Suyal belongs to the Pauri District of Uttrakhand. Born in the Garhwali Family, Pawan displays his cricketing career as the domestic player representing Delhi.
5. Ekta Bisht
Ekta possesses the pride of being the first International Woman Cricketer to represent Uttarakhand. She was born in Almora District. She is a left-handed batsman and bowls a slow left-hand orthodox bowling.
6. Pawan Negi
Pawan Negi is basically from Uttarakhand. He was born and brought up in Almora in a kumaoni Rajput Family. His family got shifted to Delhi, and he was admitted to the Delhi Public School, Mathura Road. He started to play cricket for the school and later for a club. He was quickly recognized by DDCA and was included in the Delhi Ranji Team. From there, he started to become better every passing year – first with Delhi Dare Devils and later Chennai Super Kings IPL Team.
7. Rishabh Pant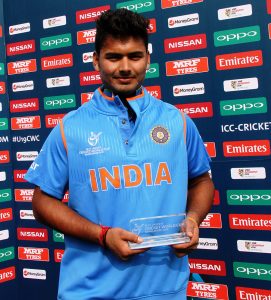 Rishabh Pant was born in a Kumouni Brahman Family in Roorkee, Uttarakhand. His parents belong to Kumaon region basically. He moved to Delhi from Roorkee with his parents at the age of 12 to seek guidance from Sonnet Club coach Tarak Sinha. He played for Delhi in Ranji Trophy and currently playing for Delhi Dare Devils Team in IPL.
Comments
Comments